Dear valued users,
To ensure a smoother, safer and more professional trading experience, BIB Exchange specially holds Trade and Win to reward users who conduct spot trading,futures trading,flash option trading with chances to win a share of our 20,000 USDT prize pool. First-come, first-served, join us now!
Activity Details:
Prize Pool: 20,000USDT
Activity Time: August 18, 2022 14:00 - September 2, 2022 14:00 (UTC+8)
Latest Rewards Withdrawal: Before September 6, 2022 23:59 (UTC+8)
Participants: All BIB users
Rewards Settlement: Real-time distribution by platform systems
Details: During activity period, users receive lucky draw chances through reaching the following tiered standards: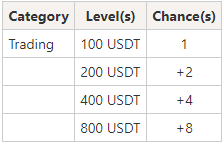 Please Note:
1. Lucky draw chances can be accumulated, eg. The trading amount of a user has reached 400 USDT and the chances rewarded will be 1+2+4, in which a total of 7 chances.
2. General Draw chances earned can only be used on the day itself and will be cleared on the following day.
3. The prize will be accumulated in 'Previous Unclaimed Rewards' and will only be credited to users' spot account when 'Claim' is clicked. Please be reminded to claim it before the latest reward claiming time as any unclaimed amount will be cleared after the mentioned date and time.
Thank you for your consistent support to BIB Exchange!
Terms:
BIB reserves the right to forbid any malicious or fake participants.
BIB reserves the final interpretation to this activity.
Disclaimer:
There are huge risks involved in digital currency trading, please purchase with caution and pay attention to various transaction risks. Please note that BIB is not responsible for any guarantee, compensation, etc. for any of your transactions. BIB reserves the right to amend, change or cancel this announcement at any time in its sole discretion and for any reason without prior notice.
BIB Operations Team

August 18, 2022
you can also find us on:
Twitter:       https://twitter.com/bib_exchange
Facebook:   https://www.facebook.com/bibexchangeofficial
Linkedin:     https://www.linkedin.com/company/bibexchangeofficial
Instagram:  https://www.instagram.com/bib_exchange/
Medium:     http://bibexchange.medium.com
Telegram:   https://t.me/BIB_Global