Dear valued users,
We are pleased to announce that we are finally here to launch our Testnet Rewards Program! Our team has been working dedicatedly for months and has finally achieved this feather in our cap of development. So, we are extremely excited to have you with us to witness the progress and push us to reach the next milestone with your precious feedback and suggestions. Complete missions to win yourself 100,000,000 BIB Token worth of prizes such as BIB Token, NFT whitelist, USDT rewards, etc. First-come, first-served; Extra income, you deserve!
The Testnet Rewards Program will be carried out in 3 rounds with each of which lasts 5 days. Notably, NFT and related information of an account in a particular round will be cleared before the start of the following.
Time: September 12, 2022 14:00 - September 26, 2022 14:00 (UTC+8)
Activity 1: Join our Testnet Rewards Program  and win airdrop of 100,000,000 BIB Token
Join BIB META Testnet (http://beta.bibmeta.net) and finish the following tasks: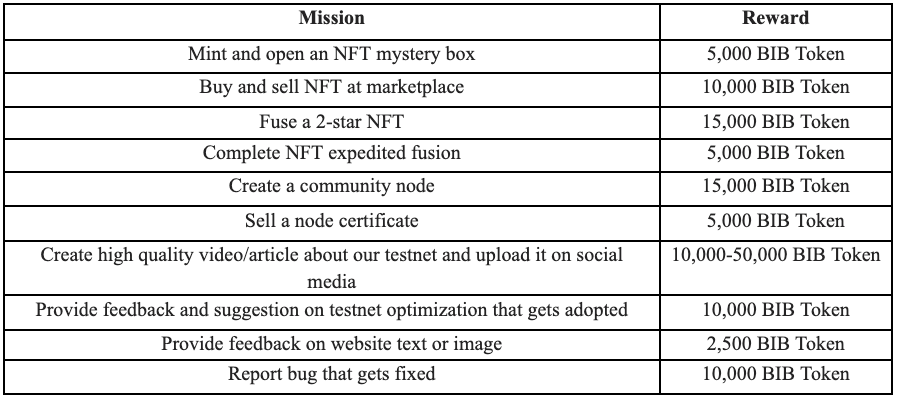 After the tasks are done, fill your BSC address in the Gleam and wait for our testnet airdrop!

Activity 2: 1000 USDT Testnet Content Creator Rewards
15 creators who create and upload a video/article about our testnet on social media will be chosen as winners of:
1. the Best Video Creator Award: 5 pax (100 USDT/pax)
2. the Best Image Creator Award: 10 pax (50 USDT/pax)
Requirements: The content of video/image should be mainly about the tutorials of BIB Meta testnet. *The length of video is recommended to be within 10 minutes and the URL has to be uploaded to GLEAM. (BIB META logo>>)
Activity 3: Win 200 NFT Whitelist Spots
The first 200 users who create a community node during the activity period are entitled for NFT whitelist spots.
Description:
All the rewards of this Testnet Rewards Program will be released after IDO, please ensure to fill in your BSC address on GLEAM and wait patiently for the announcement.
The testnet feedback reward is on a first-come, first-served basis which it will go to whoever provides the feedback first.
Winners of the creator and whitelist awards will be announced after the program period.
To ensure fairness, the distribution of rewards will automatically exclude fake accounts and addresses which BIB Meta reserves the final interpretation of this activity.
BIB Meta is the world's first Web3 ecosystem of crypto exchange constructed by BIB Exchange. It embraces DeFi, NFT, GameFi and so forth that have been developed into a multi-dimensional gigantic Web3 ecosystem supporting the sale of NFT, trading, fusion, match prediction, NFT collection, community node, virtual sports games, etc.
The native token of BIB Exchange, BIB Token, abbreviated as $BIB is a BEP20 crypto asset issued at 100 billion pieces. It is not only the fundamental and common medium in both BIB Exchange and BIB Meta but also an element that supports the asset circulation and construction of the whole ecosystem.

Thank you for your consistent support to BIB Exchange!
BIB Operations Team
September 12, 2022
You can also find us on:
Twitter:      https://twitter.com/bib_exchange
Facebook:     https://www.facebook.com/bibexchangeofficial
Linkedin:     https://www.linkedin.com/company/bibexchangeofficial
Instagram:    https://www.instagram.com/bib_exchange/
Medium:       http://bibexchange.medium.com
Telegram:     https://t.me/BIB_Global