Dear valued users,
Each and every wave of technology leads us closer to the coast of freedom and equality. Cryptocurrency exchange, an indispensable element that links to the blockchain world possesses innate advantages as the central hub between a project and its investors, playing a vital role in pushing the development of the entire industry.

Being a global exchange platform that provides services to the world, BIB always works on the discovery of price dimensions in terms of blockchain. We observe from the perspectives of users and leverage the expertise and experience of our team to ensure asset security to the greatest extent possible.

For smoother, safer and more professional user experience, BIB honorably holds a LUCKY DRAW activity as an appreciation to our beloved users. Stand a chance to draw up to 999.99 USDT every time you deposit, invite your friends, etc. A total prize pool of 20,000USDT is awaiting you, stop hesitating and join us now!
Activity Details:
Prize Pool: 20,000USDT
Activity Time: July 27, 2022 14:00 - August 3, 2022 14:00 (UTC+8)
Latest Rewards Withdrawal: before August 6, 2022 23:59 (UTC+8)
Participants: All BIB users
Rewards Settlement: Real-time distribution by platform systems
During the activity period, users only need to deposit, invite friends and so on to unlock the chances to draw. Besides, users are entitled for a precious "Guaranteed Draw" that grants 100% win rate after drawing 30 General Draws. Further details are shown below:
Please Note: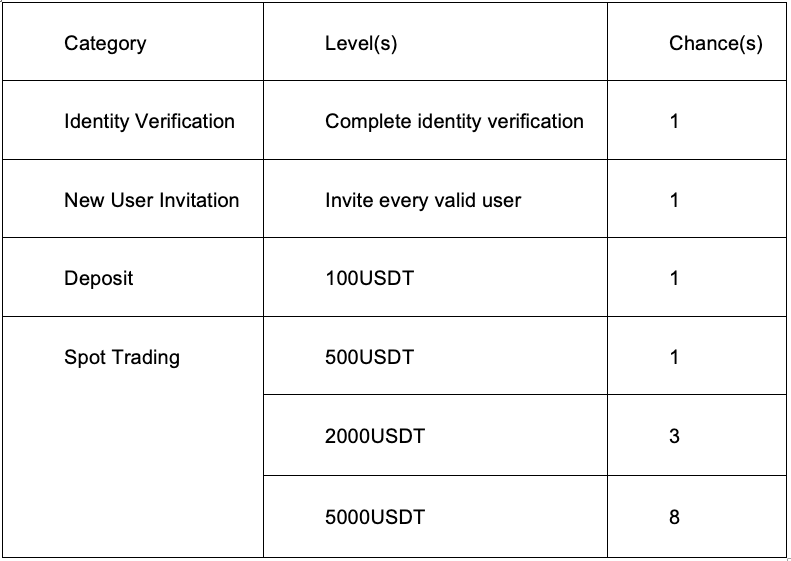 'Valid user' in this activity refers to a new user who has been invited to join the platform and deposited at least 100USDT.
When users are rewarded a Guaranteed Draw, it has to be used first in order to start a new round of accumulation.
The prize pool for Guaranteed Draw is limited each day, so users will be reminded to draw it the following day if it is finished.
General Draw chances earned can only be used on the day itself and will be cleared on the following day.
The prize will be accumulated in 'Previous Unclaimed Rewards' and will only be credited to users' spot account when 'Claim' is clicked. Please be reminded to claim it before the latest rewards withdrawal time as any unclaimed amount will be cleared after the mentioned date and time.
Thank you for your consistent support to BIB Exchange!
Terms:
BIB reserves the right to forbid any malicious or fake participants.
BIB reserves the final interpretation to this activity.
Disclaimer:
There are huge risks involved in digital currency trading, please purchase with caution and pay attention to various transaction risks. Please note that BIB is not responsible for any guarantee, compensation, etc. for any of your transactions. BIB reserves the right to amend, change or cancel this announcement at any time in its sole discretion and for any reason without prior notice.
BIB Operations Team

July 27, 2022
you can also find us on:
Twitter:       https://twitter.com/bib_exchange
Facebook:   https://www.facebook.com/bibexchangeofficial
Linkedin:     https://www.linkedin.com/company/bibexchangeofficial
Instagram:  https://www.instagram.com/bib_exchange/
Medium:     http://bibexchange.medium.com
Telegram:   https://t.me/BIB_Global